HMAS Penguin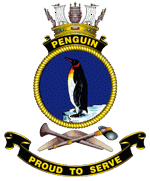 All Good Things Come to an End
In March 1960 I was sent to the HMAS Penguin where, following a thorough medical examination, I was informed that I was medically unfit for Naval Service (hearing impaired  due to the noise onboard ship).  I was subsequently sent home to await my discharge in May.
Being forced to leave the Navy was not one of my most treasured memories of what was and remains a fabulous period in my life.  Any experience that leaves you with the same great mates more than 40 years on has got to be good.
Looking Back
For those considering a career in the Royal Australian Navy I strongly urge you to give it serious consideration.  It is a fabulous vocation, one that fills you with pride plus personal and professional satisfaction.  I have no regrets and value my time spent with the RAN – you will too!