Curtescy of FAA Magazine Slipstream
The text below is the Chief of Navy signal explaining the requirement to establish the new Aviation Support Category for LHD operations.
FM CN AUSTRALIA
TO ATG 3600
ATG 3602
RAN ALL SHORE 1/3
RAN ALL SHORE 2/3
RAN ALL SHORE 3/3
BT
UNCLAS
SIC WAA
ORIGNO: 2636/DFMS
015 ALL SHIP 0,15 ALL SHORE 013 ALL OVERSEAS
SUBJ: ESTABLISHMENT OF AN AVIATION SUPPORT CATEGORYTHE RAN IS SCHEDULED TO INTRODUCE THE TWO CANBERRA CLASS
1. AMPHTBIOUS ASSAULT SHIPS (LHD) DURING THE PERIOD 2014-2016.THE ARRIVAL OF THESE SHIPS WILL REQUIRE NEW COMPETENCIES AND SKILL SETS TO BE MASTERED IN ORDER TO ENSURE THE POTENTIAL AMPHIBIOUS CAPABILITY PROVIDED BY THESE PLATFORMS IS FULLY REALISED ONE SUCH AREA OF EXPERTISE IS THE CONDUCT OF MULTI-SPOT AVIATION OPERATIONS FROM A LARGE FLIGHT DECK, THE SCALE OF WHICH THE RAN HAS NOT CONDUCTED SINCE THE DE-COMMISSIONING OF THE CVS HMAS MELBOURNE. 
2, THE COMPLEX NATURE OF LHD AVIATION OPERATIONS WARRANTS PERSONNEL WITH SPECIALIST TRAINING AND EXPERIENCE TO MASTER THE COMPETENCIES REQUIRED TO ENSURE SAFE AND EFFICIENT MULTI-SPOT FLIGHT DECK AND HANGAR OPERATIONS, ACCORDINGLY I HAVE AGREED TO THE ESTABLISHMENT OF AN AVIATION SUPPORT (AVN) CATEGORY TO UNDERTAKE THESE DUTIES ON THE LHD 
3 TO ESTABLISH THE CATEGORY IN SUFFICIENT TIME TO MEET THE LHD TNTRODUCTION INTO SERVICE PLAN, COMMANDER FLEET AIR ARM (COMFAA), lN  CONJUNCTION WITH THE DIRECTORATE 0F NAVY CATEGORY MANAGEMENT (DNCM), TS To ESTABLISH A CATEGORY IMPLEMENTATION MANGEMENT TEAM (CIMT). THE CIMT IS TO DEVELOP AND COORDINATE THE EXECUTION OF AN AVN CATEGORY ESTABLISHMENT PLAN, ENSURING GROWTH OF THE CATEGORY MATCHES LHD REQUIREMENTS 4. FURTHER DETAILS ABOUT THE AVN CATEGORY WILL BE MADE AVAILABLE WHEN THE CATEGORY DEVELOPMENT PLAN IS FINALISED
 With the resurrection of the Premier Bramch of the Fleet Air Arm what will be the next re-incarnation?? Safety Equipment and Armourers.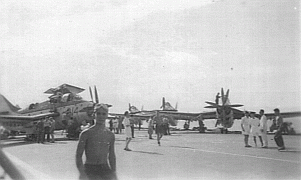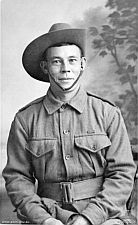 Billy Sing, nicknamed 'The Murderer' was a World War 1 hero, once known around the world.  But by the time he died in 1943, alone and almost penniless he had all but been forgotten. Billy was born in 1886 in Clermont, QLD to a Chinese father from Shanghai and an Englishwoman. This son of a Chinaman rose above the racist attitudes and laws of the time and was a likeable young  bloke admired for his sporting prowess, particularly with the rifle. While still a boy, the story went, he could shoot the tail off a piglet at 25 paces with a .22 rifle.
From the age of 15, Billy worked as a station hand, ringer and horse drover further cultivating his childhood bush skills, including hunting. He honed his shooting skills at the Clermont Rifle Club, and later at the rifle club in Proserpine. A regular winner of shooting prizes, he was also a good cricketer.
Sing was in his prime when he journeyed to Brisbane to join the 5th Light Horse (LH) Regiment in 1914. The 5th LH was in Egypt when the ANZACs landed at Gallipoli. Leaving their horses behind, Billy's regiment deployed in May 1915 as Infantry to Turkey's Gallipoli Peninsula. Trooper 355, Billy Sing became 'probably the most dangerous sniper in any army throughout the war', wrote Ion Idriess. Idriess sailed to war on the same boat at Billy and became a popular author after the war. He was also an experienced bushman and at times was Billy's spotter.
'Abdul the Terrible', as the Allies called him, was the decorated Turkish sniper bought to Gallipoli to stop Sing! He methodically studied the Australian's  handiwork – up to nine kills per day. Having finally located Sing's specially constructed 'possie', Abdul  prepared to take down his prey – only to be shot between the eyes by Sing.
Abdul was one of Sing's 201 confirmed Gallipoli kills, though he probably took the lives of many more  Turks – there was not always a spotter to verify kills, and it was sometimes difficult to determine if targets that had been hit and fallen into trenches had actually been killed. Though bringing grief to Turkey,
Sing's exploit saved Allied lives and was perfect propaganda – he was mentioned in despatches, warded the Distinguished Conduct Medal and lauded in newspapers from Sydney to San Francisco.
But it didn't go all Sing's way. He was wounded in August 1915, when a Turkish sniper hit the telescope  of his spotter, who was badly wounded before the bullet finally came to rest in Billy's shoulder.  As the weather deteriorated, Billy succumbed to the cold, wet weather and the appalling conditions in the trenches and was evacuated to Malta just weeks before the Allies withdrew from the Gallipoli peninsula. Bouts of illness kept Billy in England for some time before he was deployed to the Western Front in January 1917 with the 31st Australian Infantry Battalion,  where soon after he was wounded and sent back to England to recuperate. He wrote home, 'We had an awful time in France this winter; it was the coldest they've had for years……It would break your heart to see the dead bodies lying around unburied.'
Following his discharge from hospital he was given leave. Sing headed to Edinburgh,  where he had a whirlwind romance with a waitress Elizabeth Stewart. On 29 June they were married. A month later Billy was back in the trenches!  Private Sing was awarded the Belgian Croix de Guerre in early 1918,  for his role in leading a patrol, killing several German snipers at Polygon Wood in September 1917. Over his period of service he contracted influenza, rheumatism, mumps, had been gassed, shot on two occasions, sustained shrapnel wounds to both legs and his back,  spending quite some time in and out of hospitals, eventually causing his medical discharge.
The mustard gas caused lifelong lung disease for Billy and it signalled the end of his military career  when in July 1918 he was shipped home. Despite having been wounded, gassed and ill several times he was declared fit and able to work when discharged in Brisbane. For a time Billy was buoyed by an enthusiastic welcome in both Proserpine and later Clermont  but that soon faded. He set out to be a sheep farmer like so many other soldiers on blocks  donated to returned servicemen by the Federal Government, but his land was poor like many  of the blocks in this flawed scheme. Almost a third of the soldiers turned farmers walked  off the land – including Billy Sing.
There's no indication that Billy's wife was ever part of his new life. There is correspondence showing  that he applied for Elizabeth to have free passage from Britain, it doesn't seem to have eventuated.  Though hampered by illness and his wounds, the failed sheep farmer still had to make a living. He turned to gold prospecting and did well enough to go on weekend sprees with his mining mates. He also got a reputation for heavy drinking and a bad attitude. When the gold ran out, Billy turned  to labouring in Brisbane where he continued to work hard although complaining of pains in his heart, chest and back.On May 19, 1943, Billy was found dead in his boarding house bedroom. Five shillings were also found but no sign of his war medals. As his humble grave marker in the Lutwyche War Cemetery weathered away, Billy Sing was all but forgotten. 50 years after his death a newspaper article revived interest in 'this ace Australian sniper'. A plaque was erected on the site where he died and in 1995, a statue of Sing was unveiled with full military honours in his  hometown of Clermont. In 2004 Australian Army snipers named their Baghdad post the  'Billy Sing Bar & Grill'. Last year, on the 66th anniversary of his death, wreaths were laid  at Sing's grave during a ceremony attended by various dignitaries, including the Chinese Consul-General.