HMAS Melbourne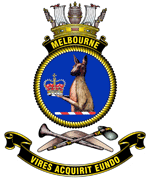 Specifications
Light Fleet Aircraft Carrier
Length: 701 ft 5″
Width: 112 ft 6″
Beam: 80 ft 2″
Flight Deck: 690 ft 8″
Laid Down: 15/04/43
Commissioned: 28/10/55
Launched: 28/02/45
New Zealand
Between January and February we sailed from Jervis Bay to Hobart, Milford Sound [one of the prettiest places you would wish to see, especially from sea], Port Chalmers and on to Wellington in New Zealand. Here we underwent exercises with the HMNZS Royalist.  In late February, early March, we moved onto to Auckland and into the Hauraki Gulf area. Docking at Davenport in Auckland, a group of Kiwis took a bunch of us on a scenic tour. We had a picnic lunch and a swim in the hot springs at Rotorua and I certainly cannot fault the hospitality of the group that day.
Singapore Road (Malaya)
After the exercise we again sailed for the Far East via Melbourne, Adelaide, Fremantle and then up pass Coccus Island where we picked up the Quickmatch; Queensborough; Wave Laird; Cockade and Concord. We proceeded down the Malacca Straits to Singapore Road and then onto the Gulf of Thailand for the Astra exercise.  That May we sailed on to Jesselton exercising en route, eventually anchoring in North Borneo on 7 May, 1957. Despite anchoring, we were unable to have shore leave. Anchored in waters of the Malayan Emergency, our safety ashore could not be guaranteed due to local unrest. As such our time was spent aboard ship maintaining a vigilant watch.
Sadly this trip was ill fated for Navy lost one of it's own.  Fellow RAN sailor, Robert Spooner was killed by a star shell from the Cockade.  We buried Robert at sea with the entire fleet saluting his resting place in line astern.  In my opinion Robert's death hammers home the reality of naval duty and indeed the frailty of life which often accompanies war.  There are those who assume that all we did was exercise but while we did indeed exercise 24/7 in preparation for battle readiness, we also saw action.
Far East
It was no accident that we found ourselves in the Far East.  As stated in a NAA FESR Overview titled Navy Ignored and Forgotten: an issue of equity, the Second World War did not end in 1945 rather it simply altered its character.  The socio-political climate of the period in general was one of fear and uncertainty as totalitarianism changed its guise from fascism to communism.
Democratic defence had become a priority following a meeting held earlier in December 1954, at which ANZAM Military Planners had reviewed strategies in relation to the defence of Malaya against the contingencies of the Cold War, Global War and war with China.  Malaya was deemed to be of strategic importance in that it's geographical position afforded some protection to Australia and New Zealand.  Malaya was also the key to air and sea communications in the region with the Kra Peninsula the last defensible position in South East Asia.
The Far East Strategic Reserve's primary purpose was to to provide a deterrent.  We were to counter further Communist aggression in south East Asia by defending potential targets such as Malaya and Singapore.  Thus with adrenalin pumping and in duty bound we chased pirates and ran down gun runners.  We flew sorties day and night over the Sulu Sea, patrolling in readiness to halt what history describes as the domino effect.  That is, the theory that communism would spread much the same way a falling domino sequentially precipitates the fall of further dominos.
By the time we sailed into Hong Kong Harbour via the Sulu Sea, feelings were running high (the Cockdale was sent to Manila).  We spent alot of time engaged in exercises spanning the South China Seas, before sailing back to Singapore via Palawan Passage in June, anchoring at Showboat, Singapore Road on 13 June.
Heading Home
When we eventually returned to Australia, I was drafted to Nowra where I picked up my kellick rate. I was a Mickey Mouse kellick for six months before rejoining the Melbourne late in 58′.  In January 1959 we sailed to Melbourne for the filming of On The Beach. Ava was a very nice distraction from routine chores.
It was then back to Sydney for SHOP Window and in March we headed for the Far East.  I started that trip as a Fwd Parking Director but by the time I had hit Singapore, the F/D Officer and I had exchanged words and I was unceremoniously banished to WK Damage Control on Five Deck. Needless to say I spent my last sea duties on Deck Five!  On our way back home we called into Brisbane and as I had changed my home Port I went on leave before being drafted to Nowra. I spent the remainder of my time in the Navy at the Fuel Installation and Fire Store.