HMAS Sydney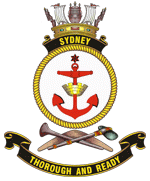 Fiji
Fiji was my first foreign port of call. We spent four days in Fiji and even though it was only leave to midnight, we certainly enjoyed ourselves. I was lucky for on one of my duty nights I was the Shore Patrol Driver and it was on that night that the locals decided to put on a traditional Island Luau. Of course duty didn't stop any of us from having a good time and I for one had a great night.  Another favourite moment in Fiji was the game of rugby we played against the local police. They were big to tackle but we did our country proud. I also remember the locals lining up along the wharf when we sailed. They sang the Maori Farewell song and it was truly heart stirring.

Brisbane
On the way back to Brisbane we ran into the biggest storm. Perhaps that's understating it somewhat! It was a cyclone lashing the Coral Sea day and night. The bow of the Sydney would dip into a greenie and break over the Island area. We were soaked working in the Admirals Walk.  I was in 2F starb and our deck was awash every time we opened the hatch to the fwd gun sponson. On the roll it would scoop the water up and into the mess. The ladder to 3 deck made a perfect waterfall. it was certainly a time not to be forgotten.
Olympics
During the Olympic Games in 56′ I was drafted to Lonsdale as a patrol driver, my kellick an ex-birdie. Fortunately I got to see a lot of the games. It was a great experience, almost as much fun as patrolling the red light district keeping my fellow Matelot safe!  After the games, I was drafted back to the Sydney whereby we met the HMAS Melbourne in the Bight and safely escorted her to Sydney. Later that same year we accompanied the Melbourne as a supply ship carrying spare choppers, on our first trip to the Far East.
Far East
Singapore was a major cultural shock. We tied up at HMS Terror. The first taxi ride into Singapore was out of this world! The driver put one hand on the horn and away we went holding on for dear life. As we passed through one village, a lad was showering near a roadside water-pump. I thought we had collected him and as I looked back he was actually spinning around.  Singapore was definitely a cultural change.
We saw all the sights … the New World; the NAAFI Club; we had a beer or two at Raffles; and even visited the Cultural Centre in Boogie Street.  Next we steamed into Hong Kong; Wanchi; Happy Valley; KowLoon [Waltzing Matilda Bar]; Manila.  Three months in the Far East was certainly an eye opener, only ending with our first Aussie return port of call, Darwin.  Once back down under came the inevitability of change.  With mixed emotions I left the Sydney having been drafted to the HMAS Melbourne.
While navy life is a wonderful experience for any man it is, and always will be first and foremost, a duty to one's country.  On 22 November 1955 for example, a secret request to utilise naval services in the Strategic Reserve on what was deemed anti-terrorist operations was relayed by the Secretary of the Navy to the Far East Commander in Chief.  This request was subsequently approved the following day resulting in a strengthening of the commitment to be battle ready.
Sailors were required to be physically and mentally prepared for contingencies up to and including full-scale war.  Thus we trained, re-trained and then trained some more.  Exercise upon exercise we drilled as instructed.  We lived in conditions that today would de deemed unacceptable, however, despite a lack of comfortable quarters including no air-conditioning, and on-board illness an ever-present hazard, we none the less banded together and prepared ourselves for war.
Within the space of five years the RAN deployed 13 ships on 35 tours of duty.  Duty which would later be forgotten to all but those who endured such peril.  But that's another chapter and I am jumping ahead of myself.  Let's take a step back and first stroll on board the deck of the Melbourne.